Tel:0086-373-8444303
Fax:0086-373-8444202
P.C:453322
Mr Chen Mob:0086-18903738880
Adress:Yingang Industrial Area In Fengqiu,Xinxiang,Henan,China
E-Mail:cranexd@163.com
Overhead crane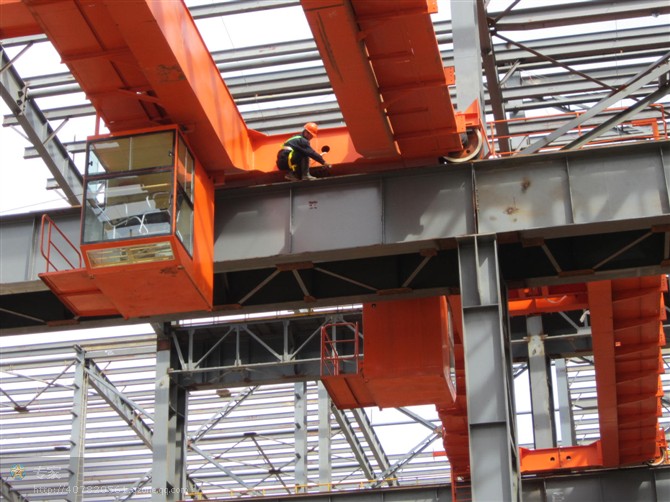 Overhead crane is bridge crane, which is framed on high elevated rail,so it is also called crown
block. The bridge frame is paved on both sides in the workshop or storage, and travells in
lengthways direction. The lifting trolley is placed on crane's main girder, travelling in
cross direction. Then the crane's travelling in a rectangle scope,so that it can make full use of
the space to lift objects.
The Overhead craneis widely used indoor or outdoor storage,workshop,port or yard. It includes
overhead crane, simple girder crane and metallurgy special crane.
The ordinary Overhead crane is consisted with lifting trolley, crane travelling mechanism, metal
structure. The lifting trolley also has lifting mechanism, trolley travelling meachanism and trolley
frame, three parts.
Lifting mechanism includes motor,braker,reducer, wire drum and pulley block. Motor drive the
wire drum via reducer, in result the wire rope is rolled on drum or put down from drum, so that
achieve the objects go up and down. Trolley frame is used to support and install lifting mechanism
and travelling mechanism, it is a welded structure.